Commerical Truck Tires For Sale - Phoenix, Tucson Arizona
At AZ Truck Tires we offer the lowest discount prices on commercial and heavy duty truck tires. We carry all the popular brands including top names such as Goodyear, Bridgestone and of course Kelly Tires. See more brands to the right. We also carry all common commercial application sizes. See our tire sizes with explanation below.

ABOUT US:
We are the valley's number 1 dealer of discount new and used commercial tires. We offer outstanding customer service and low prices. Let our technicians help you size your application and we offer cheap installation prices.

Not only do we sell commercial truck tires, but we also sell light truck tires along with tires for consumer passenger vehicles including, cars, vans and SUVS. Should you have any questions, or are looking for a type of tire that you do not find on this site, please do not hesitate to contact us.
Arizona Service Areas:
We primarily serve the central Phoenix and Tucson markets; however we do expand to accommodate the surrounding areas. For Phoenix this includes the east valley; Mesa, Scottsdale, Chandler and Tempe and the west valley; Glendale, Avondale, Goodyear and Peoria. For Tucson this includes Oro Valley, Drexel Heights and Sierra Vista. If your commercial tire needs fall within either Maricopa or Pima County, there is a good chance we can service you.
Commercial Truck Tire Quality
Where We Find High Quality Used Tires:
Used commercial tires can really only come from one place off of commercial and other heavy duty trucks. At AZ Truck Tires we obtain many high quality commercial tires because of our new tires sales division and our affiliations with repair centers and other facilities. We look for commercial tires that were under normal wear and can withstand the pressures of commercial applications. Through our exchange program we are able to get commercial tires at discount and wholesale pricing which allows us to pass on this savings to our used market customers.
Commerical Truck Tires Sizes:
11R22.5
12R22.5
11R24.5
215/75R17.5
225/70R19.5
245/70R19.5
255/70R22.5
295/75R22.5
315/80R22.5
385/65R22.5
425/65R22.5
285/75R24.5
Commerical Truck Tires Sizes Explained:
The first number in a tire size denotes the section width and aspect ratio. For radial tires a "R" is used followed by the wheel diameter. Lastly the letter used gives the load rating of the tire. Truck tires starting with 8, 9, 10, 11 and 12 are standard profile tubeless and denote inches. The aspect ratio is 88 percent of this number. So an 11R22.5 tire would be 11 inches wide, 9.5 inches high with a 22.5 wheel diameter. Tires with sizes like 215/75 are measured in millimeters with the second number the percentage for the aspect ratio.
Commercial Truck Tire Selection
Displayed below are a few of our most popular truck tire brand and size combinations. If you do not see what you are looking for on our website, we can special order it.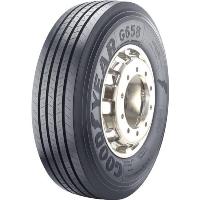 Goodyear 11R22.5
Toyo 12R22.5
Bridgestone 11R24.5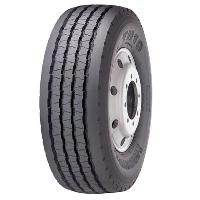 Hankook 215/75R17.5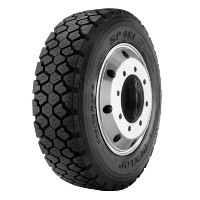 Dunlop 225/70R19.5
Firestone 245/70R19.5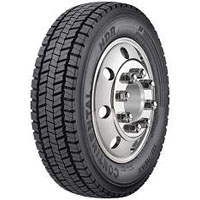 Continental 255/70R22.5
Kumho 295/75R22.5
Cooper 385/65R22.5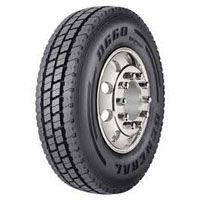 General 285/75R24.5